Hi loves!

I have shared with you my street photography in my earlier blog post – My Bangkok Trip, Part I: Streets & Places of Bangkok. I am happy to receive many loves from readers over the pictures!

Now I'm going to share with you my food adventures around Bangkok.
Thai food, I'm loving it~♥




Food in Bangkok.
They are not necessarily my recommendations but a documentation on where I've been and tried throughout my 5-days trip.

First, let me bring you some foodporn from the streets of Bangkok. Some of you may be skeptical to try (I do know of some people who are, even guys) but what's the point of travelling if you don't? Don't get all princessy with me!

P.S. The man doesn't eat street food (or didn't get to try before) but came along the food adventure with me. So much love.

Along Siam Square.
No exact address because I was walking around headless.

Click on images to enlarge.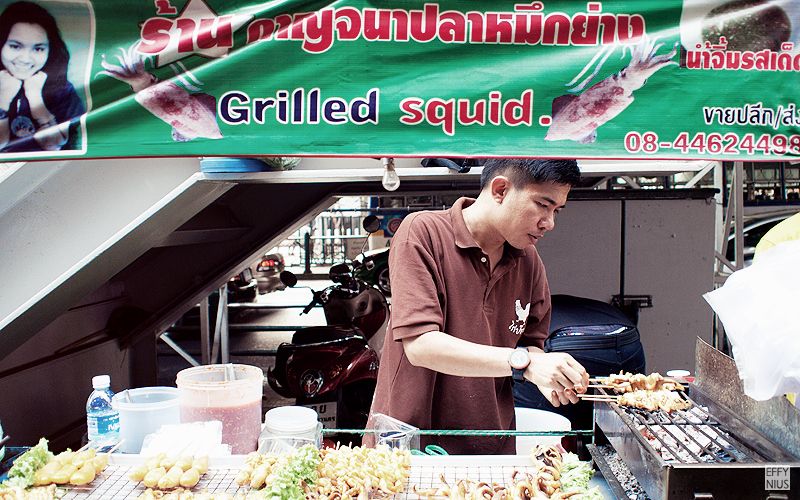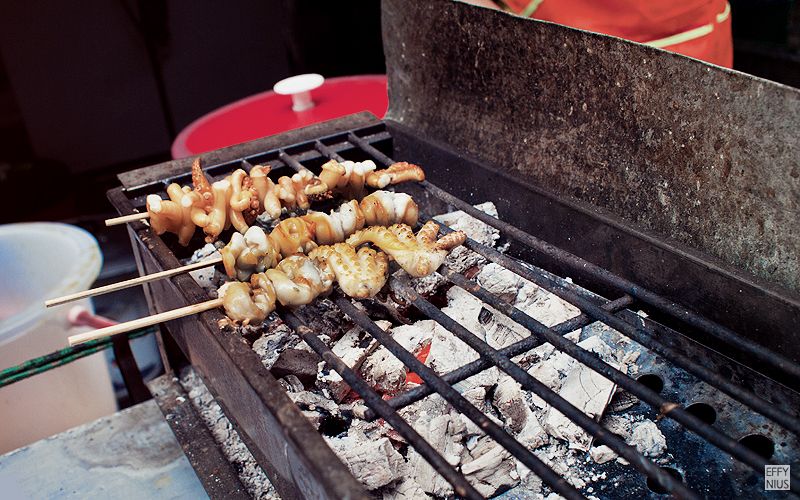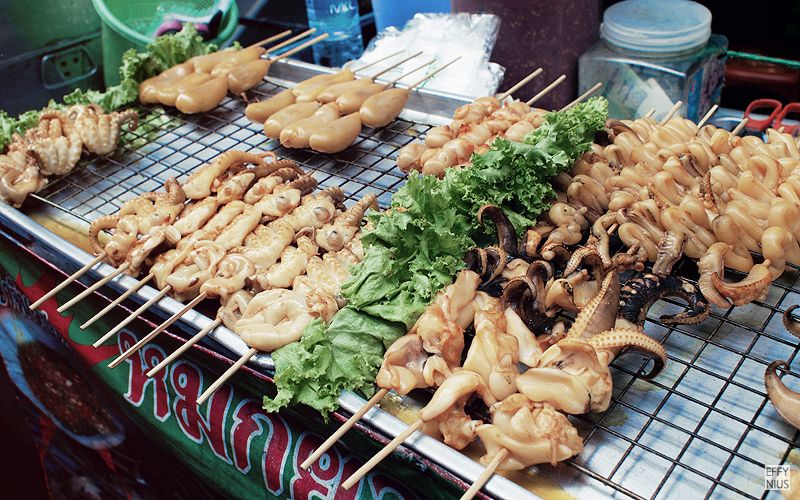 Price: 20 Baht (for the small one)

I am mad in love with grilled food so of course I couldn't resist. They come in small, medium, large sizes. The large is… too large. They may look good but if you are really into grilled food like me, don't bother trying. ZERO GRILL TASTE. I'd give it a name change – steamed squid.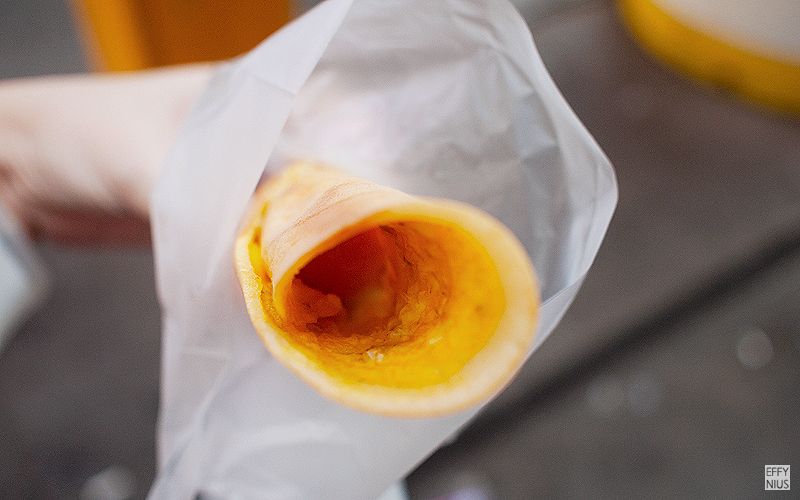 Hotdogs in pancake with egg. Not that fantastic but not that bad either. Fairly okay.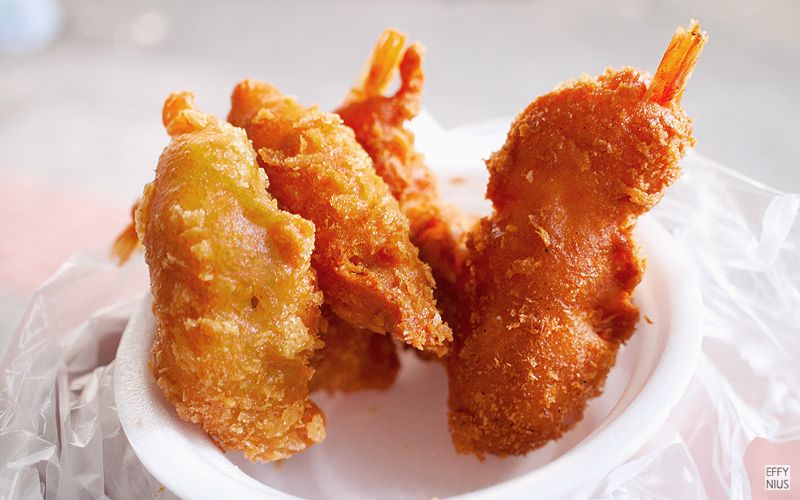 Now this fried prawn ball is awesome street food.
Too hungry by now, so no picture of the stall.







Outside Central World.
Settling with some random street food, while on my way to Platinum Mall for major shopping spree!



泰国燒肉飯 – meat is a little too dry for my liking.
I'll show you the awesome one later in my post.



Pad Thai. Good stuff but I prefer lighter taste for my first meal. Be warned that their chilli powder is crazy hot sex. Don't try anything funny if you can't take spicy stuff.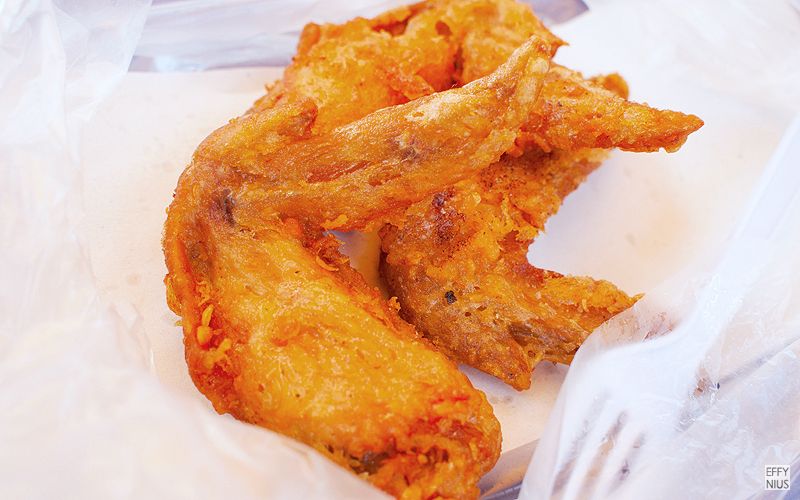 Not a fan of fried chicken wings but the man has so much love for this.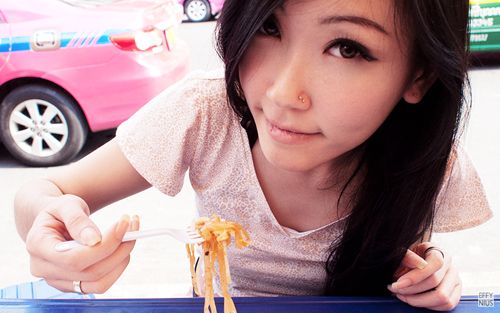 Finally, hungry me digs in!!!







Somewhere in Jatujak Weekend Market.
You don't see much food in here but this is a gem in a hot weather!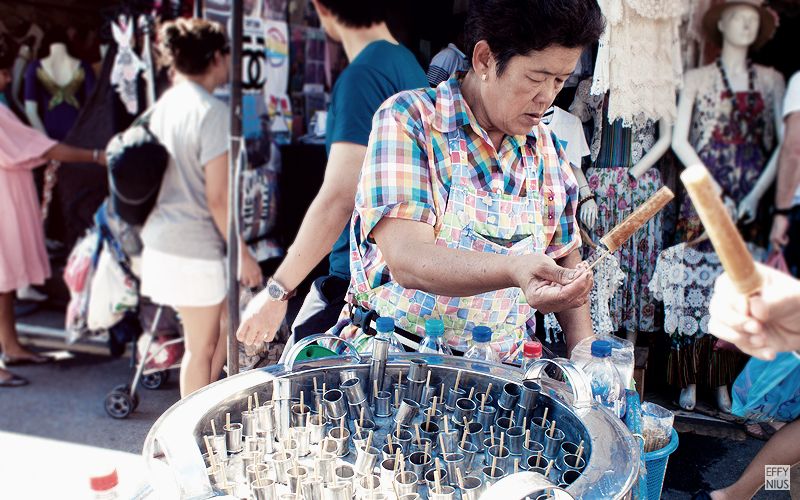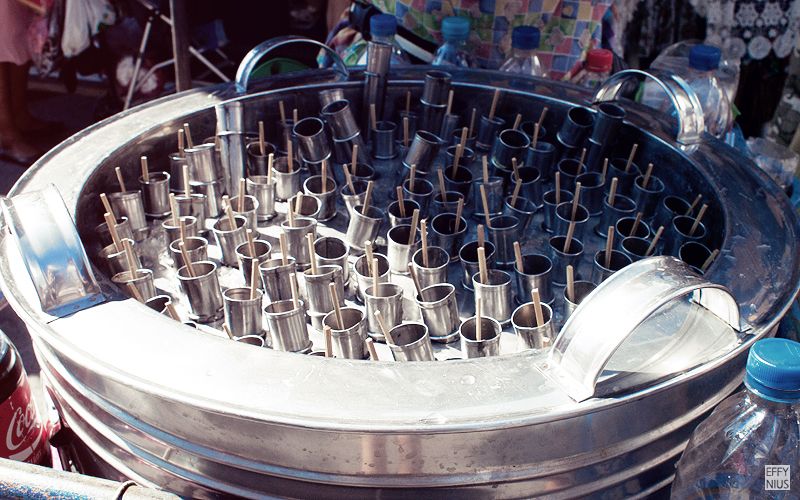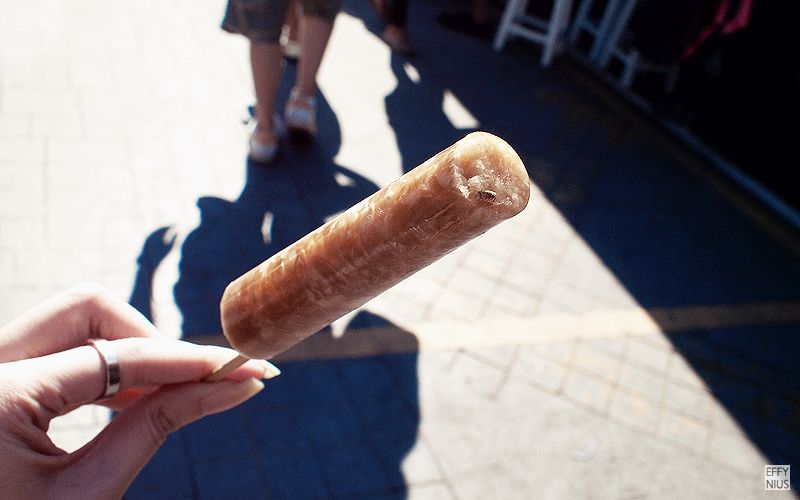 Drinks made into ice. There are plenty of choices to choose from, and I picked… Coke!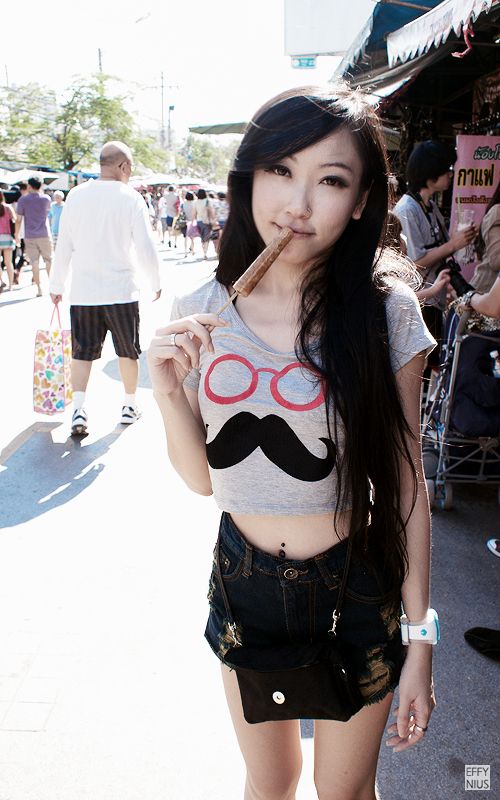 Ahhh. Purrfect in this weather.


Huai Khwang Market.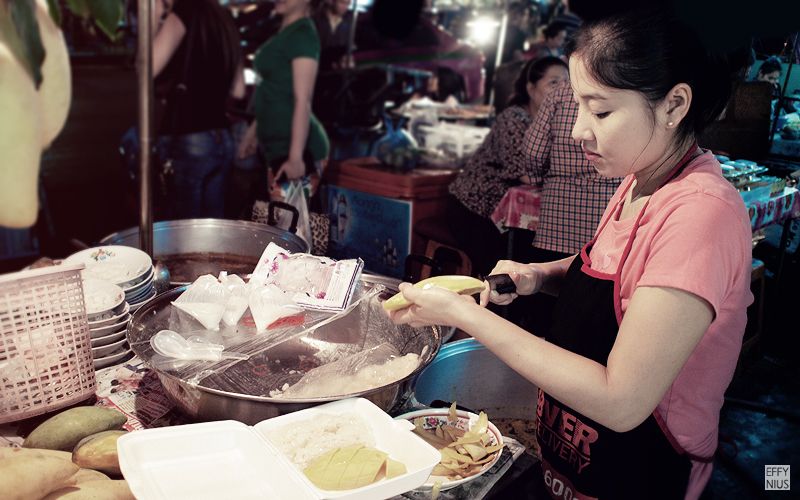 I didn't get to try the famous mango sticky rice.
I don't care, I'm taking any random one!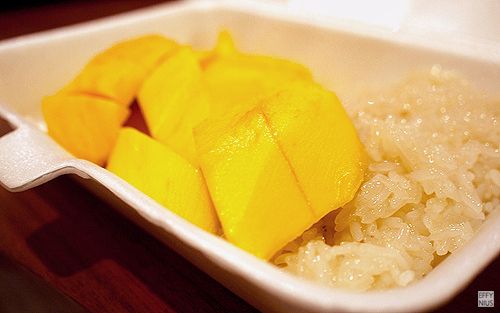 Price: 180 Baht (slightly pricey but biiiggg packet)

As compared to the famous mango sticky rice – by the man –
the mango isn't as sweet and soft.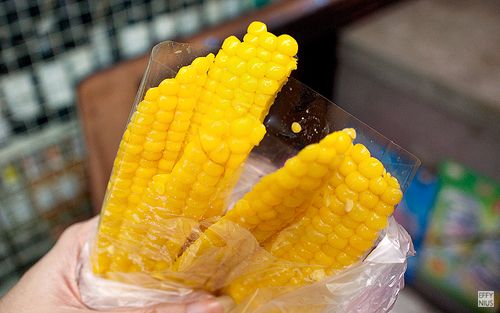 Steamed corn, skillfully sliced out. This could be the most tasteless thing I ever tried, even plain water tastes better. You must try this, just to know how tasteless it is.







Enough of food porn from the streets! Now I'm going to share with you some awesome food from eating houses and malls in Bangkok.

Huai Khwang Market.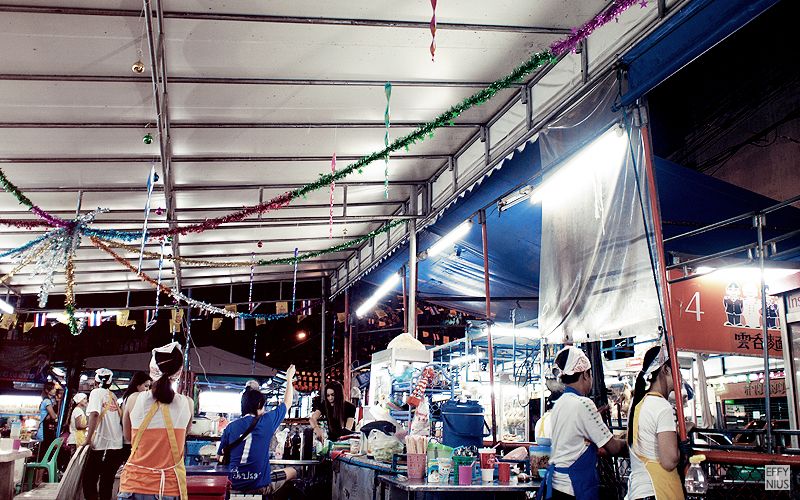 You have been warned: you'll get free shitload of mosquito bites by the end of meal.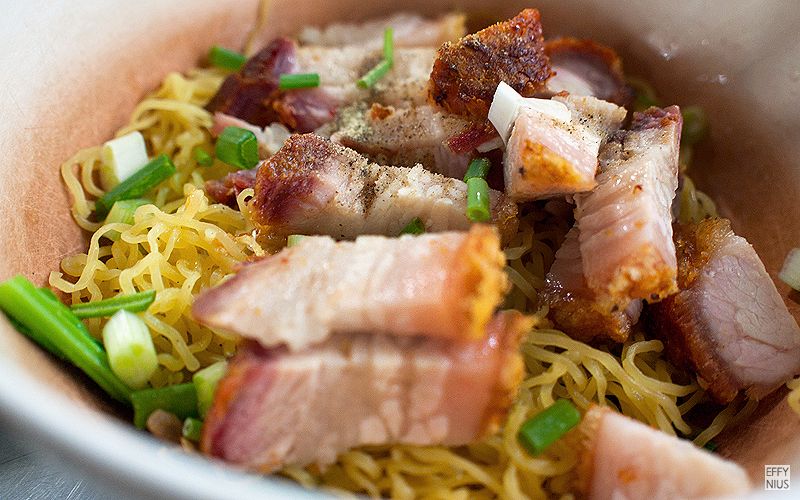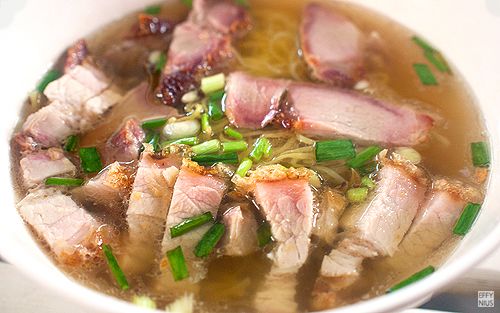 Roasted pork and/or red pork noodles, available in dry and soup. My usual preference would be soup because I don't like my food with sauces but here in Bangkok their dry noodles are in fact dry, without the funny sauces. If you are wondering, they still taste awesome! I wouldn't take red pork in Singapore, or anywhere else, because they are usually sweet. To my surprise again, their red pork ain't at all red, with no funny red sauce. I took a few bites, they are okay. To each individual. Next I would like to give all my love to their roasted pork. The meat isn't fat and hard, and the roasted skin is so much cripsy sex!!! I most definitely recommend roasted pork noodles – dry. 😀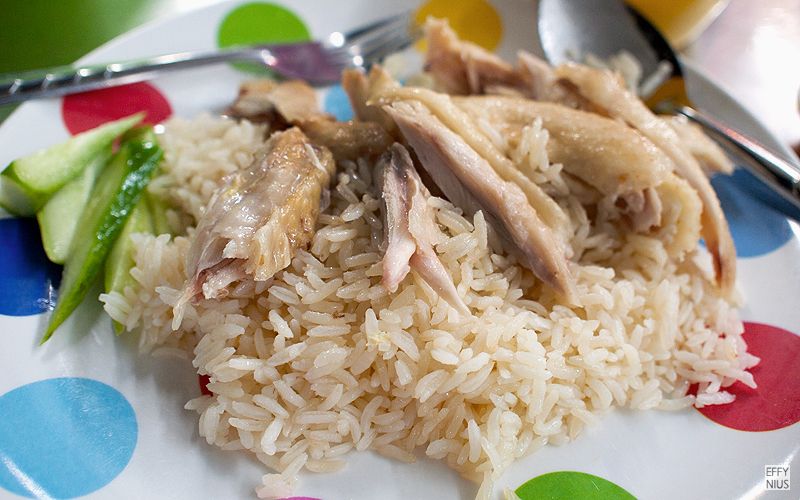 For chickee rice, I don't know how to appreciate chickee meat other than thighs and drumsticks. I don't know how to order that in Thai so I have to settle with what they gave me. A little dry for my liking. I'm surprised they didn't just cook plain white rice though, it's almost like Hainanese chickee rice. Almost.


Or Tor Kor Market.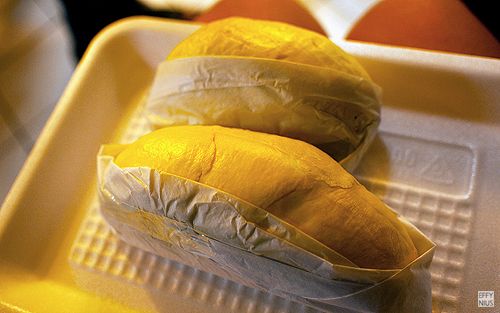 Don't know how we ended up here, but I found what I've been looking for since day one – durians! Why? Because I'm a certified durian queen and I want to try durians all over the world! Does that make sense? Everyone tells me durians in Bangkok are either sweet or tasteless. If you know how to eat your durians, it has got to be bitter. Really bitter. I wasn't disappointed with the durians here because I haven't been expecting much. True enough, durians here are tasteless and a little hard. Such wastage because the durians is huge with generous amount of durian meat.


MBK Shopping Centre.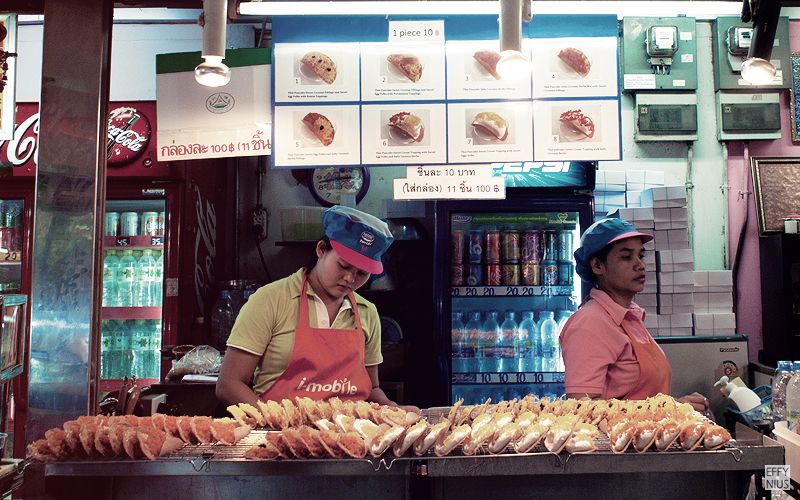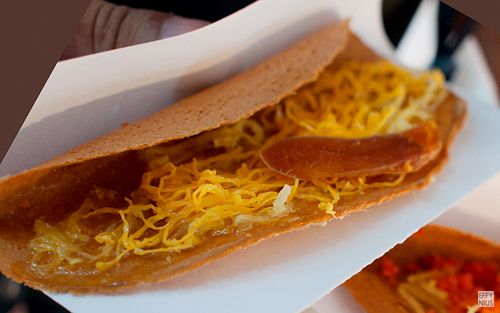 Price: 10 Baht each / 100 Baht for 11 pieces.

Walking along MBK and got attracted to this very special smell of food. Something sweet, something weird. I can't quite make it out. The man hasn't tried this before too, and I'm so happy he bought two to eat with me! Although I'm not much into sweet stuff but this is something worth trying. Sweet coconut with cheese and whatever.
Just give it a try.







And then it was a vegetarian day – I take vegetarian food every 1st and 15th every month of the lunar calendar. Here are some vegetarian food I tried in Bangkok.

Tops Flavour.
A foodcourt located in Robinson, Future Park.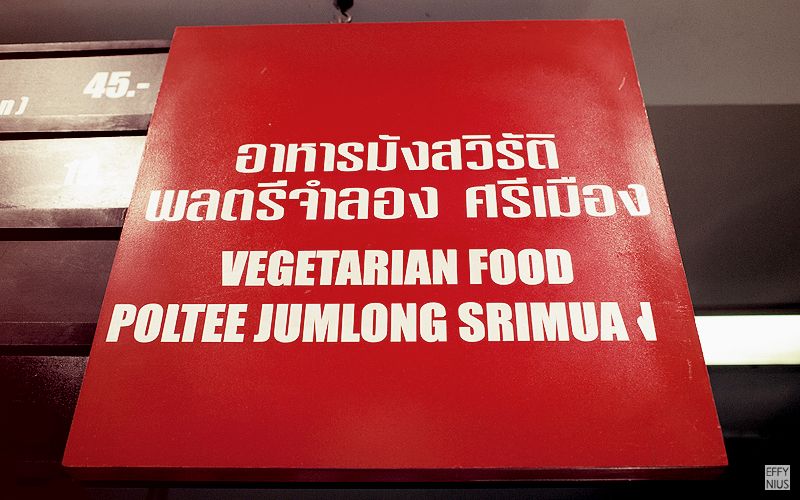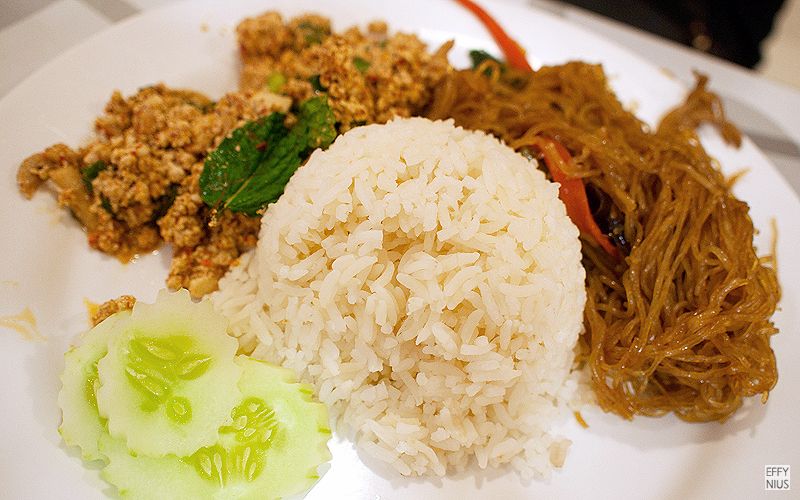 Vegetarian food in Bangkok is wow!!!
They don't have that funny taste in the usual vegetarian food.







Palazzo Hotel.
Room service. I can't find anymore vegetarian food anywhere.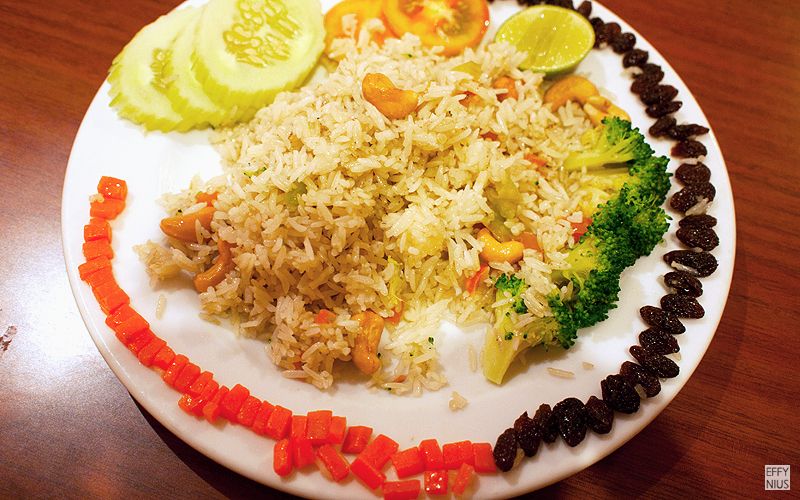 The man knows I don't take carrot and raisins. Look at his creation.
SO MUCH LOVE. ♥







MK Restaurant.
Thai steamboat.

There are many dishes I've taken but they all look the same anyway – raw stuff. I'm sharing just the recommendations with you.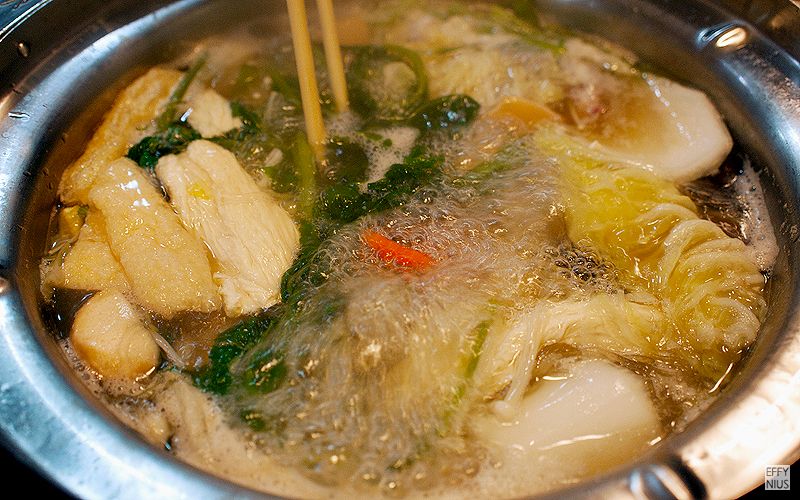 No buffet available.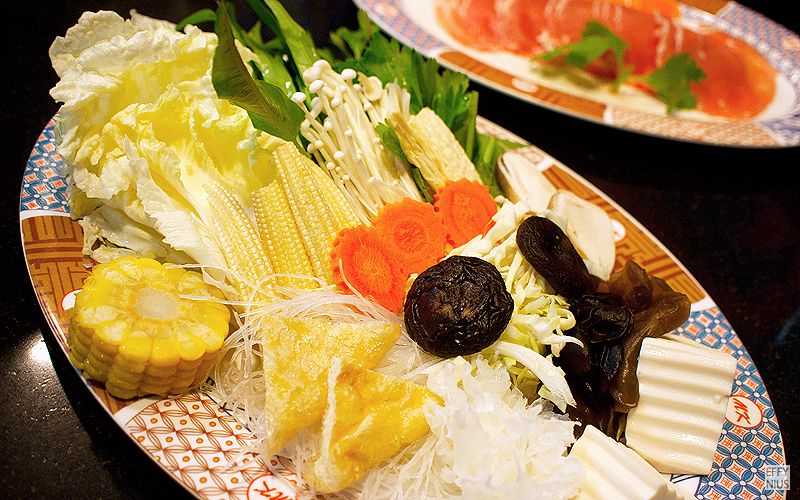 Instead of ala carte vegetable dishes, this set is recommended.
Huge variety and cheap.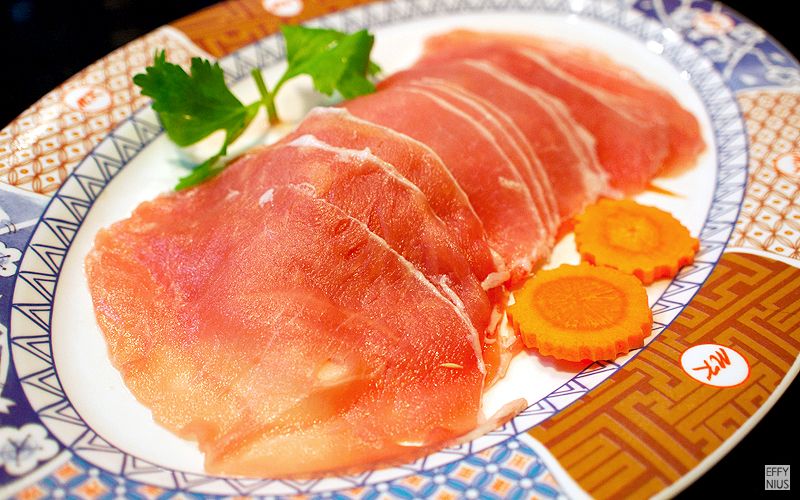 This. is. fucking. awesome. Thinly sliced pork.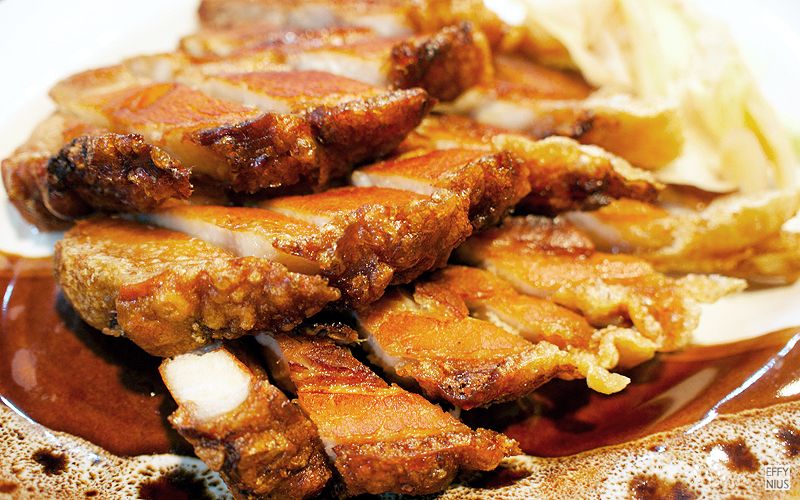 MUST-HAVE side dishes. Roasted pork. Highly recommended.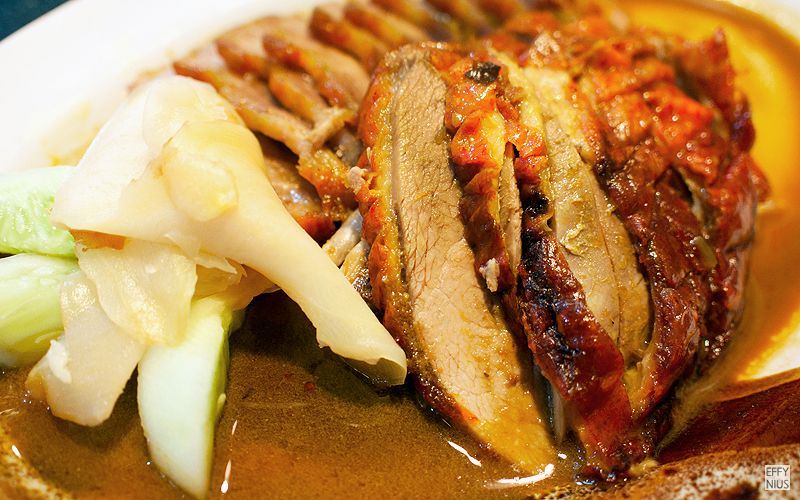 MUST-HAVE side dishes. Roasted duck. Highly recommended.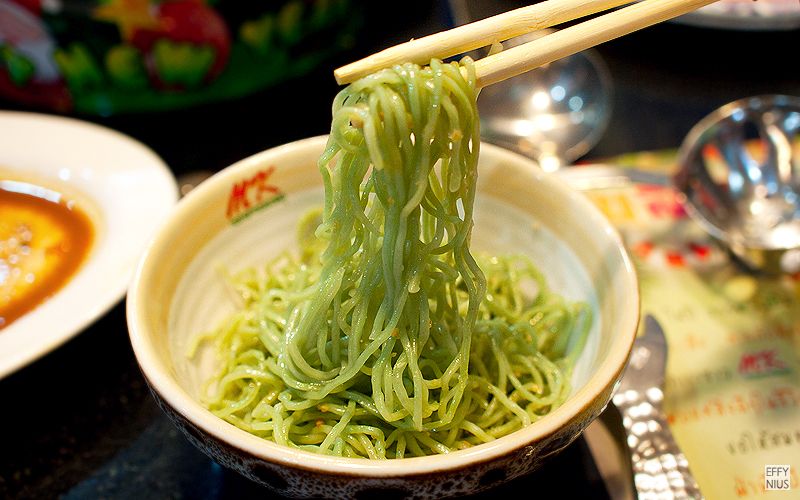 You must not come to MK and not try this green noodles.


Park Terrace.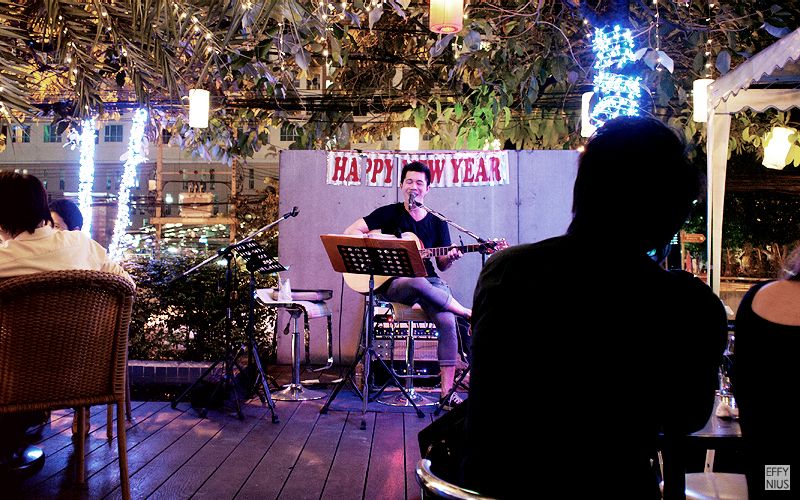 Awesome food with awesome live band. What can be more awesome?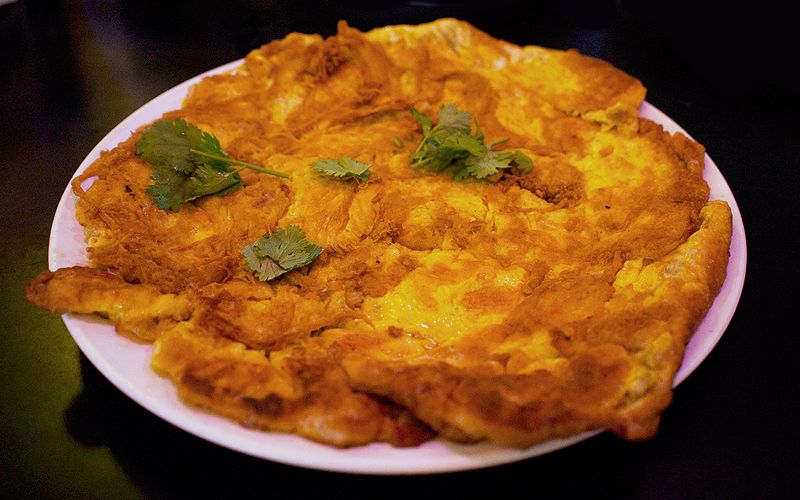 Khai Jiao Moo Sap – Minced Pork Omelette
Best I've tried in my life.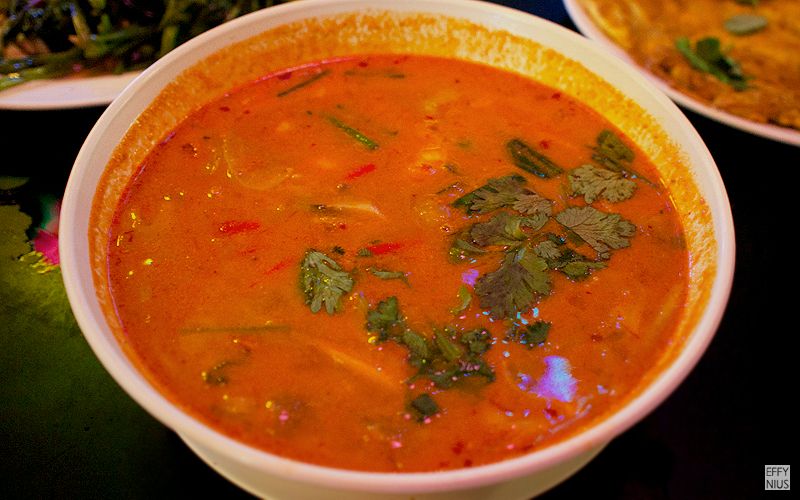 Tom Yam Goong – Tom Yam Soup
If you think Singapore's Tom Yam Soup is good, try again.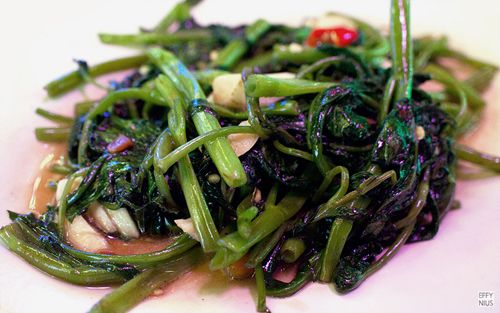 Pak Boong Fai Daeng – Stir Fried Kangkong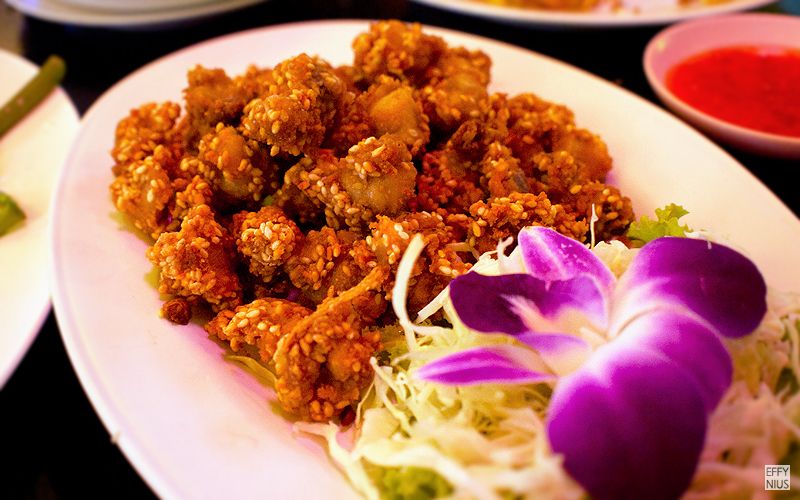 Tok Gai Tod – Fried Chicken Soft Bone
If you love soft bones, this is a MUST-HAVE.







Fuji Japanese Restaurant.
A little off for my Bangkok trip but you've got to try this.
Awesome Japanese food, best thing is it's cheap!



Fucking awesome Sashimi boat.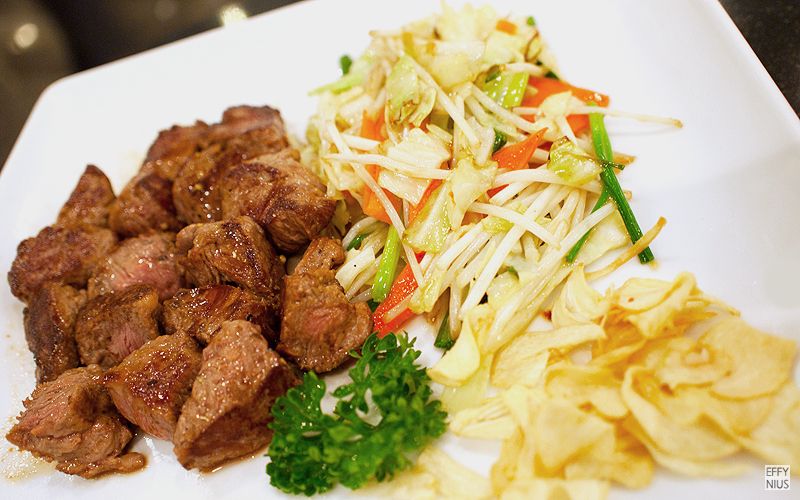 The generous beef cubes. Just to clarify this isn't my dish because I don't take beef!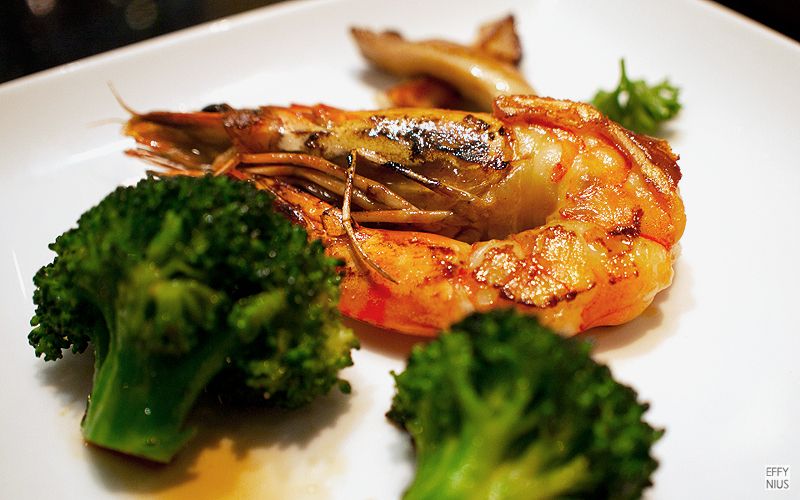 This is with the beef set. The prawn is as big as my head. Just kidding. Still, it's huge.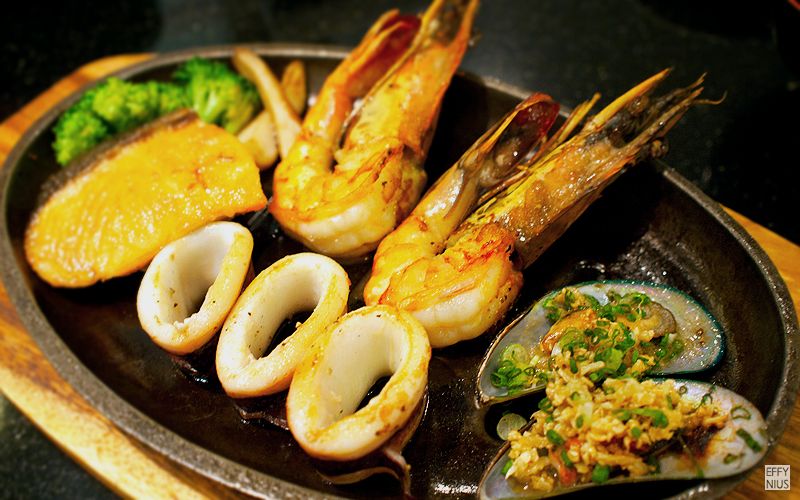 Seafood platter with rice!!! There are prawns, mussels, squids and salmon.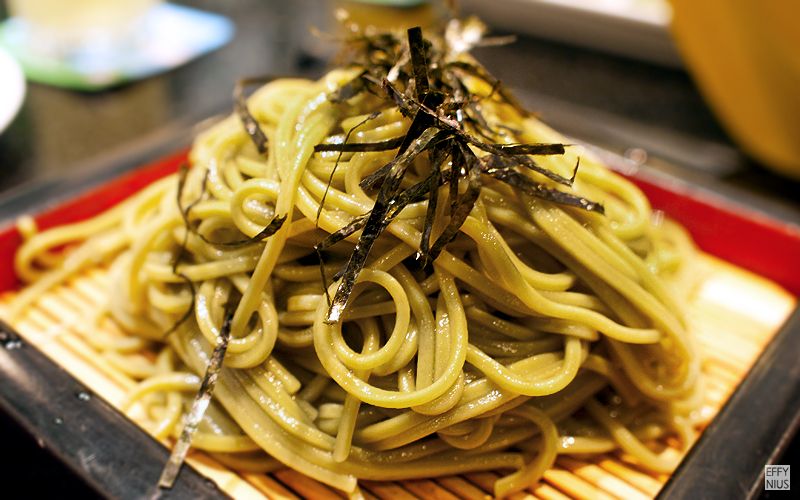 Cha Soba.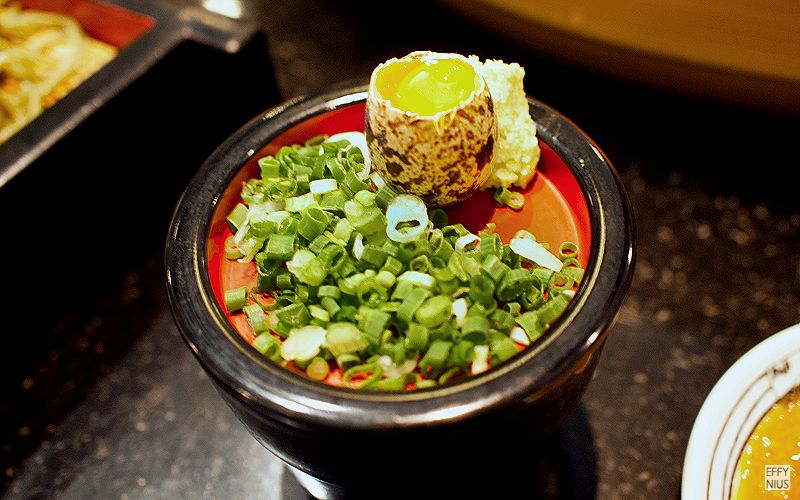 Quail egg to go with Cha Soba. Fantastic.







@ Bangkok – Authentic Thai Cuisine.
Located in Suvarnabhumi Airport.

Our last meal in Bangkok, before taking the flight back to Singapore.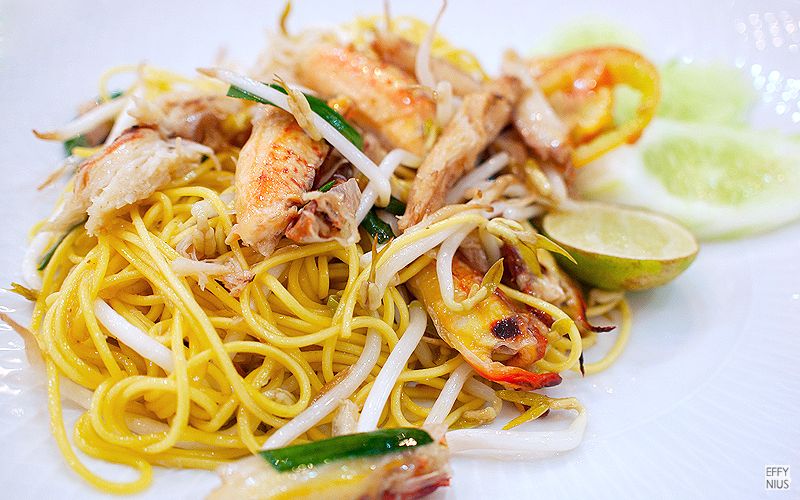 Stir Fried Noodles with (very very generous amount of) Crab Meat.
Never tasted such awesome stir fried noodles before.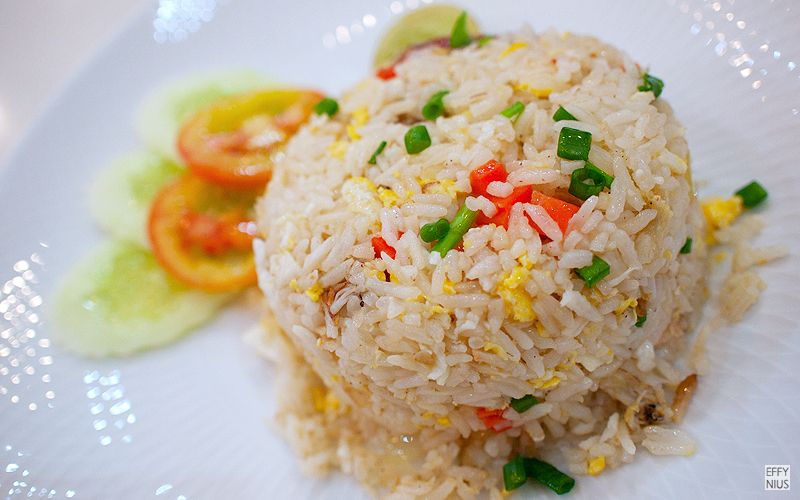 Fried rice with (very very generous amount of) Crab Meat.







Finally!!! We have come to the end of my food porn adventures in Bangkok. That was some fucking long post! So thank you very much, if you managed to reach here without skipping through. Many loves from me to you!

View my other Bangkok post!
• My Bangkok Trip, Part I: Streets & Places of Bangkok