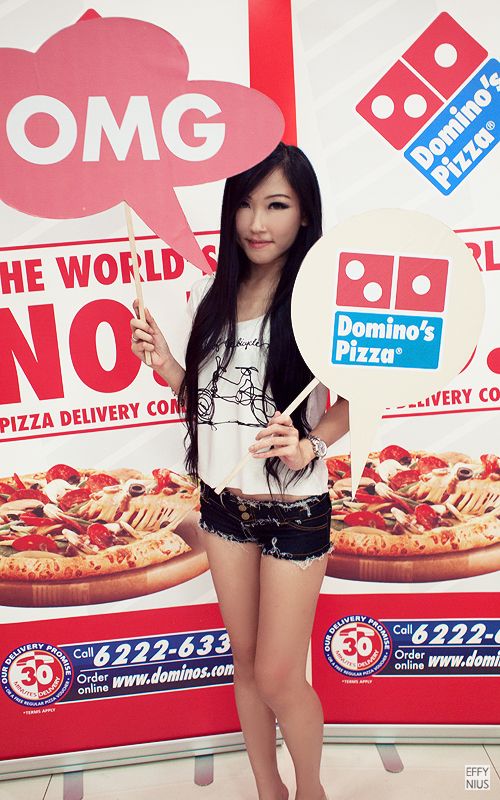 Hi loves! ♡

So much virginity given out lately. This is my first official food review, more to come I hope! Thank you Alvin Lim and Omy.sg for the invitation, I've made new friends and really enjoyed myself! 🙂

Venue: Domino's Pizza, Kovan
Address: 943/945 Upper Serangoon Road, Singapore 534710 (ALL store locations)
Hotline: +65 6222 6333
Website: www.dominos.com.sg
Sponsored by: Domino's Pizza and Omy.sg

This is a food tasting blogger event for their awesome new Double Value Deal in celebration of the coming Chinese New Year, and I am more than sexcited to be part of it. Hey, free food. 🙂

More on the great deal.

Double Value Deal promotion is valid for Classic Pepperoni, Hawaiian Paradise and Simply Cheese. Customers can opt for 2 regular sized pizzas for only SGD$22 (save SGD$27.60) or 2 large sized pizzas for only SGD$36 (save S$29.60) – you save more than half of standard price! Awesomeness.

For meat lovers, Domino's Pizza has added 50% EXTRA beef pepperoni slices on Classic Pepperoni pizza, and Chicken lovers enjoy 50% EXTRA smoked chicken breast on the Hawaiian Paradise pizza. Not forgetting cheese lovers, you enjoy 50% EXTRA cheese on Simply Cheese pizza.

Double Value Deal promotion is available from 25 January to 3 March 2013.

Terms and Conditions Apply:
– Not valid with any other promotions and discounts
– Extra toppings is not exchangeable for other toppings or cash
– Surcharge applies for Cheest Burst Crust pizza, First Class pizza and Cheese sauce upgrade.

Place Your Orders.
Customers can call Domino's at +65 6222 6333 or log on to www.dominos.com.sg or order through Domino's iPhone app to place orders. Speaking of which, I am not satisfied – where is the Andriod app?




Awesome Domino's Pizzas.
A question for you: What kind of pizza guy/girl are you?




I personally go for crust. I prefer crusts that are thick with some parts crispy and burnt. I like crusts that are a little harder to chew on. Domino's pizzas are more on the softer side – they have really thin crusts and you can actually fold them up like a burrito wrap. I ate mine that way. If you are a sauce person, I think it's fairly okay. And if you are a toppings and cheese guy, their pizzas drive you mad. They have so much stuff on their pizza I almost can't find the crust. So if you love toppings with heavy cheese and soft crusts, Domino's will be perfect.

I really have to apologise for my poor photography of the luscious pizzas. No idea how I should go about taking flat round stuff. They may not look as good, but I can assure you they are a pile of awesomeness!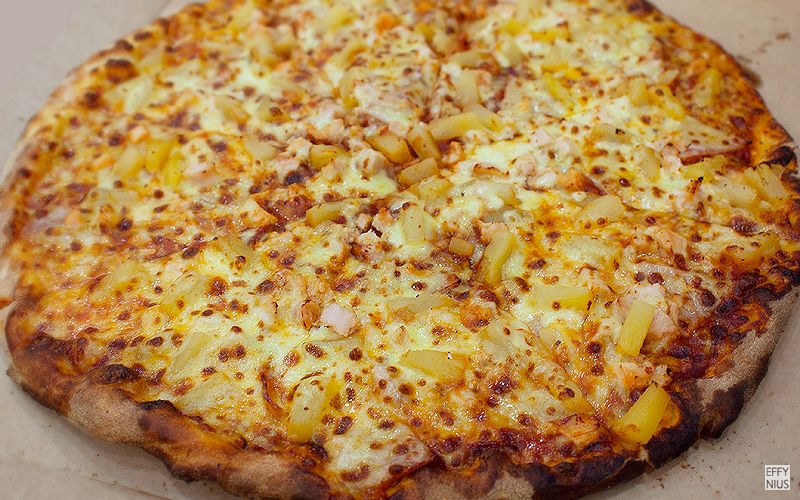 EXTRA LARGE Hawaiian Paradise Pizza.
How large you ask? Check out the picture below.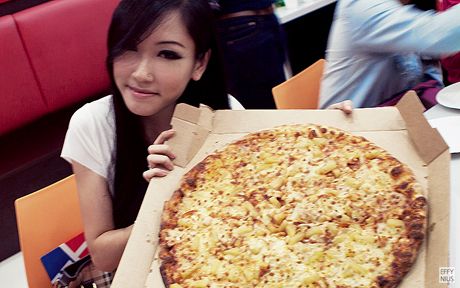 I say that's fucking large.

Loads of delicious roasted chicken, shredded chicken, juicy pineapples and fresh mushrooms on their brand new pizza sauce. My choice of pizza would be Hawaiian anytime, anywhere. It's probably the safest you can try. I am not exactly sure if the EXTRA LARGE size is available to public or specially made for the food tasting event.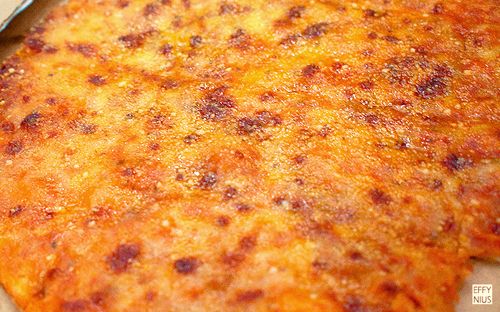 Simply Cheese with Extra Cheese Pizza.
THIS IS AWESOME IF YOU LOVE CHEESE. MUST TRY.
(This doesn't look flattering, I know)

I am mad about cheese but because of my gastric reflux problem, I need to control on my intake of dairy products. Food like Lasagne takes me about a couple mouthfuls before I start puking. Simply Cheese comes with whole load of cheese but weird enough, they don't make you nauseous like most cheesy food does. If you love cheese and worry about it being too cheesy, well if I can take it, I'm sure it's fine for you. But if you are not a fan of cheese, you may not want to try. Okay, maybe just a slice. Who knows you might grow to love cheese after this? 🙂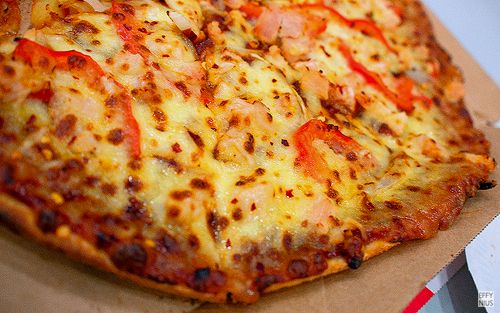 Margherita Pizza.
This is a spicy pizza, but only mildly. Cherry tomatoes, fresh tomato, fresh basil and extra mozzarella. This pizza is yummy – especially if you love cheese – but I don't know if it applies only to me, too much of this can be too thick for your stomach. I didn't finish my slice. Don't get me wrong, this is tasty, but heavy taste just doesn't appeal to me.



Meat Lover Pizza.
BBQ sauce, rasher bacon, pepperoni, champagne ham, ground beef, italian sausage, mozzarella and BBQ sauce swirl. I don't take beef, so I can't comment, but I'm guessing if you are a beef person you should love this, because the rest of the bloggers almost finish it all.




Food Tasters.
Everyone now, dig into your food!!!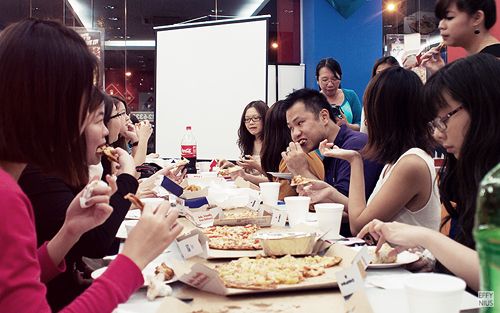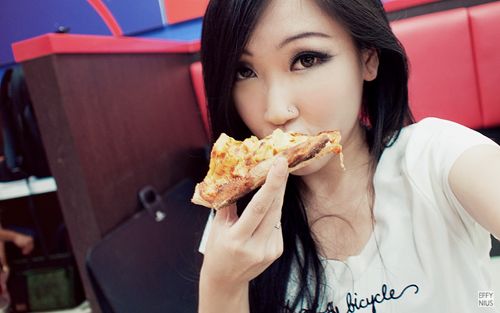 Awesome Domino's Side Dishes.
We are done with pizzas. Let's move on to side dishes!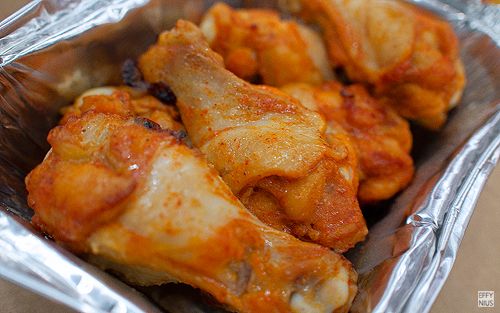 (NEW) Golden Roasted Drummet.
I just realised only now – where was my share???
SGD$7.80/6pcs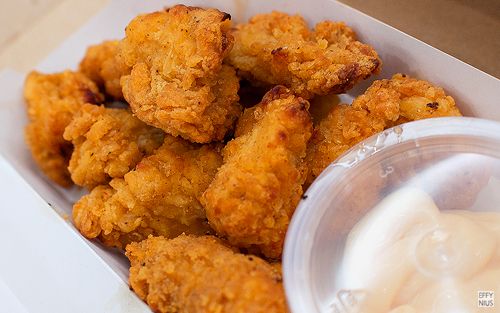 (NEW) Crazy Chicken Crunchies.
Not a fan of popcorn-like chickees, but fellow bloggers give it a plus.
SGD$7.80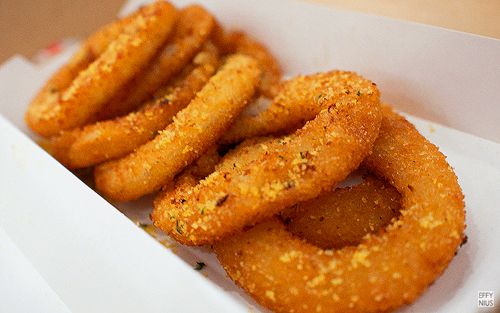 Garlic Cheese Onion Rings.
Too soggy for my liking. Nay.
SGD$3.80



(NEW) Chocolate Lava Cake.
I recommend this but note that the chocolate goodness is overflowing.
Not for the weak gastrics.
SGD$6.80




It's the end of Domino's food tasting session! I thank Domino's and Omy.sg again for the invitation, I had an awesome time and the food is yummylicious! Looking forward to more food tasting events. 🙂



My new awesome friends – Pizza Babes ♡ Yingzi, Mint and Chrys.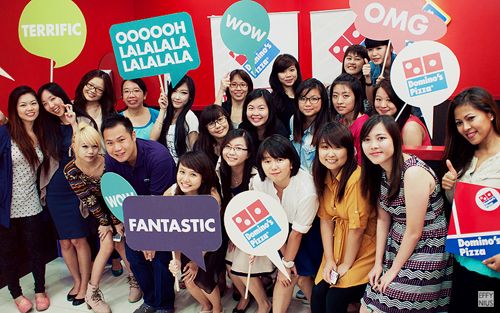 Omy.sg bloggers ♡




For advertorials and reviews, email to effynius gmail. Loves, Vikki.